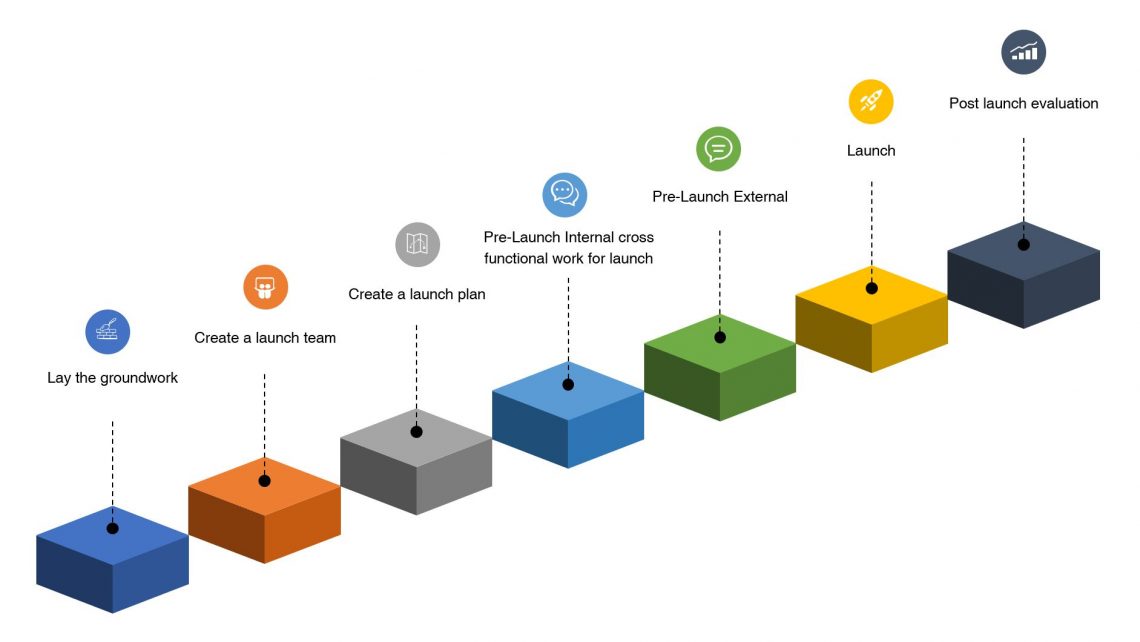 Launching new product like a rock star: Product Manager's guide to major product launch
Introduction:
You have worked hard for months to develop the product and as the time to launch the product gets close it is natural to feel excited and anxious. Product launch marks the product life cycle phase when your product will be generally available for customers in the market. A successful product launch sets the foundation for the success of the product in the marketplace. It's the moment of truth however product launch planning is one of the most overlooked aspects of a product life cycle management. Successful product launch is a whole company endeavor and involves many different internal and external stakeholders such as engineering, marketing, support, legal, pricing, channel/alliances, and program management and could easily become overwhelming.
Expected outcomes from this blog:
I have been fortunate in my early Product Management career to successfully bring several products to the market. I have first-hand experience of successfully launching products and what mistakes to avoid. In this blog, I will share a framework-driven approach to help you plan and navigate product launch which will help you improve the product launch success rate and set a rock-solid foundation for the success of the product.
I am writing this blog as a guide for Product Managers and not for Program Managers or Product Marketing Managers, therefore details of how program management and core product marketing management activities are performed are not covered in detail in this blog. 
In this blog, I will focus on major product releases which can be thought of as bringing a new product to the market or a significant upgrade of an existing product such as a new module, or major new feature. I will not be covering a minor product launch which can be thought of as a periodic product refresh, new functionality or engineering only launches (bug fixes and patches). If you are working on a minor release you can use a part of the framework to successfully manage the minor product launch.
Product Launch Framework:
A major product launch can be broken down into a seven-step process as shown in the infographics below.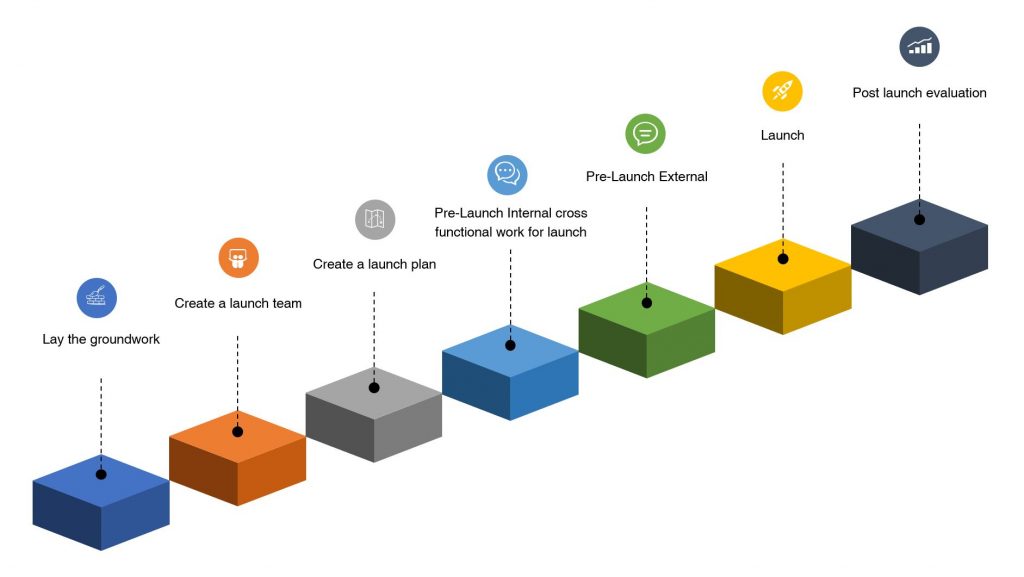 I have shown this model as a waterfall or linear model for simplicity. In practice, this is a highly iterative model. As you work through the launch you will often come back to earlier phases and make updates. Some of these phases can be executed simultaneously.
Deeper Dive
Lay the groundwork
In order to successfully launch a product, it is essential to engage early with key stakeholders and executives across different business units. Getting early executive feedback and buy-in setups for a smoother launch.
Main activities involving this phase are:
Review the business case including revenue and P&L projections.
Review of value proposition, positioning, and target market segment.
Definition of success: a measurable objective and key results to define the success of the launch and the product. This will set the tone for the product launch and how different departments collaborate to deliver on the launch.
Scope and timing of the launch
Budget approval for launch and go-ahead for planning the launch.
As you work through the product launch it is important to periodically appraise the executive leadership on progress, changes, challenges, and risks of the launch.
Create a launch team
As mentioned earlier successful product launch is a whole company endeavor and involves many different internal and external stakeholders, therefore, assembling a cross-functional launch team with representation from different relevant business units. Getting early buy-in from executives from different departments will help you put together the cross-functional team and ensure their collaboration.
Depending on your product, industry, and business model the relevant business units will vary but the most common cross-functional teams required for a successful product launch are – marketing, pricing, program management, legal, engineering, technical operations (SaaS hosting), support, IT, GTM, professional services, competitive intelligence, business operations (deals operations, and quote to cash), alliances (partner, channel and distributors), finance (finance ops, revenue recognition, and taxation), sales (new, renew, and sales engineering), customer success, analyst relations, and PR.
Think of these as functional areas you would need representation and support from to successfully launch the product. Some of these teams will work with other internal and external resources to support the launch.
Create a launch plan
In this phase work collaboratively with different cross-functional teams to finalize a launch plan which will cover all activities which need to be performed for a successful product launch. Identify dependencies, risks, expected timelines for these activities.
Think of the launch plan in terms of the 5W1H framework. A good product launch plan will cover who, what, when, where, why, and how. Work with the program manager to clearly identify different activities and deliverables required for product launch and then map these to different departments and people (launch team). Work with the launch team to identify timelines, dependencies, and resources required to deliver on these different activities.
Some of the most common deliverables covered in the launch plan are – pricing and discounting rules, marketing collaterals, sales enablement plan, sales operations plan, PR and communications plan, Biz Ops enablement plan, and legal collaterals (such as terms of service, end-user license agreement (EULA), product use rights (PUR), privacy policy, etc.), etc.
This phase is a good checkpoint for – the ability to meet target timelines, sales, and profit projections. Once you have the launch plan ready it is good practice to go back to key stakeholders and executives across different business units for periodic review. This is a great opportunity to ask for the executive's help in removing roadblocks, and accelerating launch work.
Pre Launch
Internal
The success of the product depends on how fully equipped the organization is in delivering customer value, removing any complexity from the customer's value chain, and efficiently capturing the value. This means that your company is fully equipped and excited to sell the product and support the customer. In this phase, product managers need to typically work cross-functionally with the following teams in order to prepare for the product launch:
Pricing: Before the product is launched product manager needs to work with the pricing team to finalize pricing, discounting, and promotions. A strong value based pricing is essential for the sustained success of the product. As part of this step product managers should analyze what additional net value this product adds to the customer in comparison to the next best alternatives in the customer's consideration set and what the customer is willing to pay for the additional value created. You can do this by doing a conjoint analysis and understanding customers' willingness to pay for different product attributes. A lot of time people do competitive pricing or cost-plus pricing. I think it is important to analyze both competitive pricing and cost plus pricing points but value based pricing is the recommended approach for long term sustained success of the product. I plan to cover pricing in more detail in a future blog. I will link the article once I publish it.
Sales: Sales is the moment of truth for the product. A product's success is depended on how well equipped your sales team is to sell the product and how excited they are to sell it. Introduce a compelling product proposition based on customer pain points and market needs to the sales team well in advance of the launch. Get the sales team's feedback on it, iterate, and refine. Take inputs from sales as a proxy for the voice of customers but keep long term product vision in mind and not get swayed by demands of a few specific customers or loud sales team members. Work with sales executives and finance to finalize sales compensation, targets, and incentives. Identify requirements for sales development and enablement which will include things such as sales training, opportunity identification, customer pitch deck, objection handling guidelines, competitive battle cards, and licensing guide. Then work with marketing, sales enablement, and competitive intelligence to build these collaterals. If your product technical and involves sales engineering then you will have to work with sales engineering to train and enable them in a timely manner.
Marketing: Irrespective of how good the product is, it won't sell itself. Marketing is critical for generating awareness of the product and creating a sales pipeline. Work with your marketing team to create product launch, marketing, and PR strategy. This often involves two workstreams:

Collateral creations: This covers material, content, and guidelines that will help the sales team present to customers such as marketing collaterals, prospect communications, customer presentations, white papers, demo videos, and customer testimonials.
Getting the word out aka Event planning: This covers launch event plans such as webinars, in person events, buzz creation, SKOs, customers briefing, and media and analyst briefing etc. Work closely with sales and marketing to make sure the unique value proposition of the product is correctly understood and articulated, and the correct customer/market segment is targeted to the marketing campaign.
Competitive Intelligence: Work with the competitive intelligence team to compare your product against the next best alternative customers have and identify the additional important values that your product delivers to customers compared to the competitive product. Articulate these into customer presentations. You should also identify the areas where your product lags behind compared to the competitive product and arm your sales team with information on how to overcome these challenges. You can read more about how to do competitive analysis in the previous article: https://alokabhishek.com/product-management/competitive-analysis-framework-for-product-managers/
Legal: You should engage with the legal team early in the development and launch process. The most common things which you will need to work with the legal team for product launch are terms of service, end-user license agreement (EULA), product use rights (PUR), privacy policy. In addition to these, you may also be working on filing patents, applying for trademarks, reviewing fair trade policy, etc. 
Finance: In this phase, you should work with finance to make sure accounting and taxation processes are updated to cover sales of the new product. This covers areas such as revenue recognition and taxation. This is especially critical for products that are sold across the globe and/or via marketplaces. Different countries have different tax laws and if you are launching the product on marketplaces then tax deduction at source varies from country to country. Therefore engage with finance early to make sure there are no last-minute surprises and roadblocks. 
Business Ops: Business Ops is a workstream that captures all the business supporting activities required for successful sales such as deals desk, quote to cash, customer success, etc. Work with each of these teams and test out end to end workflow to make sure your organization is ready to support the sales team as the product goes live. The deals desks team will need guidance on pricing and discounts. Test out the quote to cash process to make sure SKUs are correctly created and flow through CRM and CPQ systems.
Technical Ops: Technical Ops is the workstream that captures customer onboarding and provisioning. If you are a SaaS provider then this impacts customers' time to value therefore make sure you have the customer onboarding process tuned for the best customer experience and lowest friction. Identify the most important KPIs for customer onboarding and provisioning and track them so that you can improve these metrics. 
Support: Once customers start using your product they will have questions. They might even face some errors or bugs in the product. Make sure your support team is properly trained to handle customer questions and issues. Poor customer support experience is one of the leading causes of customer churn therefore make sure support processes are built for the best customer experience. 
External:
Partners, resellers, distributors enablement: A lot of B2B sales happen via partners and resellers therefore you need a communication and enablement plan for sales channels partners. You will need to share pricing, discounting and any special promotions with partners well ahead of the launch. These partners will also need to be trained, equipped and assessed to be ready. They should have access to all the marketing collaterals such as customer presentations, white papers, and videos. In my experience, it works better to work with channel and partner business unit within your company, identify a few top partners and then have meetings with them. This gives partners the opportunity to ask questions and provide feedback.
PR and Analyst updates: This step covers updating industry influencers and thought leaders on the value proposition of your product which includes product demo and Q&A. In the Tech B2B sector where I currently work this often involves updating industry analysts from firms such as Gartner, IDC, and Forrester, etc. In the B2C product space, product managers work with marketing teams to update journalists from publications such as Techcrunch, Verge, Engadget, etc. This will vary based on industry and product but the goal is to have positive coverage in highly reputable industry publications on which your customers rely for independent review. This helps you build credibility in the market.
Launch:
So after all the hard work, the launch has finally arrived. The launch day generally includes webinars and Live events. In addition to that this is the day when customers can start using the product so have an eye on the system dashboard to see how customer engagement and experience are.
You should have the technical team (engineering, technical ops, and support) on the ready to help in case something unexpected and surprising happens.
It is good practice to have a soft launch and phased launch processes. This helps you test out the product in real life situations without exposing it to the global market at once.
Post launch evaluation:
Formal post launch evaluation is critical for long term success of the product. You should perform an honest assessment of product performance across the OKRs and KPIs. Talk to sales, marketing, and customers for their experience and feedback. It's not uncommon for products to pivot and adjust their strategy post launch. A comprehensive and honest product launch evaluation within the first quarter after the launch will provide insights for the adjustment of product strategy and roadmap.
Closing thoughts:
As the quote goes "You never get a second chance to make a first impression." it is especially true for product launches. A well executed product launch sets you up for long term success. I hope this blog provides you with valuable information on how to approach product launch without being overwhelmed by it.
In today's fast evolving global world there are many different industries and product types. Therefore there is no single cookie cutter approach to launching a product. But I hope that the framework I discussed above will be helpful for you regardless of industry and product type. Please let me know your feedback and thoughts about the product launch framework discussed in this blog.
References: